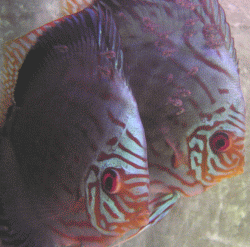 The SouthWestern Michigan Aquarium Society is a
non-profit organization whose objectives are the study, culture
and exhibition of aquatic life; the encouragement of greater
learning; the research of all forms of aquatic life; and the
promotion and betterment of the aquarium hobby.
For additional information please click here.

~~~~~~~~~~~~~~~~~~~~~~~~~~~~~~~~~
For next General Meeting program information
click here
~~~~~~~~~~~~~~~~
Regular meetings are held at 8:00 p.m. on the first Friday of each Month, excepting holidays,
(doors open for Social Period at 7:30 p.m.)
Meeting site: KVCC
Kalamazoo Valley Community College (Texas Township Campus)
6767 West "O" Ave, Kalamazoo, Michigan 49009.
in the Advanced Technology Center,
which is at the far south-west corner of the Campus
in Room 5830.
Directions
From US-131 and I-94 go 1.6 miles west on I-94 to Exit 72 (S 9th Street). Go left or south, after the street turns right, it becomes "O" Ave., take the 1st or 2nd drive to the left, then turn right on ATC Dr. and follow it to the end to the Advanced Technology Center.

Click here for a bigger map.
Visitors are welcome to attend three meetings before they are asked to join the club.
Dues are $10 for a single adult, $15 for family (2 persons at the same address), $7.50 for single
junior (through age 17), and USA corresponding membership is $7.00, and foreign corresponding
membership is $10.00. For a SWMAS Membership Application please click here.
For more information, and questions, please

George Coy
Please patronize our Supporters!!! For a list click here or go to the Supporters Page
You are visitor number

This page was last updated Thursday, November 01, 2007